MENU
All of our food is available through call-in or our delivery partners (UberEats, GrubHub, Postmates, Slice, DoorDash, and Caviar). Beer & wine is available via call-in or in-person takeout (21+). Call us at 503.460.3333
cucumber-infused ketel one, mint-infused simple syrup, accompani flora green, lime juice, smoked sea salt
coconut-infused bourbon, plantation pineapple rum, lemon juice, demerara syrup, banana liqueur, angostura bitters, vanilla bitters
aalborg aquavit, combier peche, lemon juice, sfumato, honey
tanqueray 10 gin, calisaya, lustau vermut rose, cocchi rosa, scrappy's black lemon bitters
george dickel rye, averna amaro, sweet vermouth, angostura
plantation 3*, appleton signature, meletti amaro, lime, oj, grapefruit, demerara, angostura
union mezcal, dewars scotch, cocchi torino, creme de cacao, hella 'smoked chili' bitters
aperol, sparkling wine, soda water
Fort George 'Cavatica' Imperial Stout
$6.00
Astoria, OR……8.8%/16oz
Montucky 'Cold Snack'
$3.00
Bozeman, MT........4.1%/16oz
Bretagne, France......12oz/6%
Matchless 'Getaway' Hazy IPA
$7.00
Tumwater, WA……6.8%/16oz
Salzburg, Austria……2.25%/16.9oz
Occidental Hefeweizen
$6.00
Portland, OR…..5%/16oz
Swift Hard Cider
Portland, OR 6.2% - 16oz.
Oakshire Italian Pils
Eugene, OR......5.2%/20oz
Everybody's 'Foggy Goggles' Hazy IPA
White Salmon, WA.......7.1%/20oz
Steeplejack 'Mattock' Alt Bier
Portland, OR....... 4.7%/20oz
Little Beast 'Electric Sunshine' Strawberry-Lemon Sour
Portland, OR......5.8%/16oz
pFriem IPA
Hood River, OR……6.8%/20oz
Good Life 'Sippy Cup' Hazy Pale
Bend, OR……6.4%/20oz
Level Brewing 'Bad Hombre' Mexican Lager
Portland, OR……4.8%/20oz
Double Mountain Kolsch
Portland, Or……5%/20oz
Sunriver 'Cocoa Cow' Chocolate Milk Stout
Bend, OR…..7%/16oz
2020 Barbi Orvietto Classico, Umbria Italy
$8/34 - mineral, lime, aspiring sancerre
2020 Colle Petruccio 'Stralunato' Bianco
$9/$34 - minerality, chalk, brightness
2021 Left Coast Pinot Gris, Willamette Valley, Oregon
$10/$36 - white spring flower, pear, honeydew melon
NV Torre Oria Cava Brut, Utiel Requena, Spain
$9/36 - savory peach, tropical fruit and spring flower tones
2020 GD Vajra Rosso, Piedmont, Italy
$10/36 - plum, tobacco, complex, versatile
2018 Barone Cornacchia 'Casanova' Montepulciano d'Abruzzo, Italy
$11/40 - plums and blackberries in all the best ways
2016 Solatio Chianti, Italy
$8/28 - medium body, blackberry, rich (but so drinkable)
NV Compton Family Farms Pinot Noir
$13/$48 - scent of blackberry, notes of sweet spice and black tea
NV Tintero Rosato, Piedmont, Italy
$11/40 - rushed strawberries, tart cherries, frizzant
2020 Corte San Pietro 'S'Capis' Rosato, Moasca, Italy
$10/36 - floral and fruity on the nose, with substantial acidity
Happy Mountain Kombucha
$6.00
(dry-hopped grapefruit or peach)
pineapple juice, ginger, cherry syrup, crodino (bitter italian soda) (add cachaca +5)
your choice of crodino (think aperol) or sanbitter (think campari), verjus, soda
wilderton 'earthen' infused with cilantro, lime juice, demerara, verjus
RC, diet RC, 7-UP, root beer, Squirt
$3.00
Cock 'n' Bull Ginger Beer
$4.00
(Black, Hibiscus, Mint, Chai, Green [Zen or China Green Tips], Chamomile, Earl Grey, Energize)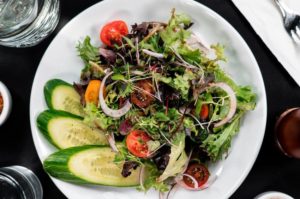 mixed greens, tomato, cucumber, red onions, balsamic vinaigrette - grilled chicken +4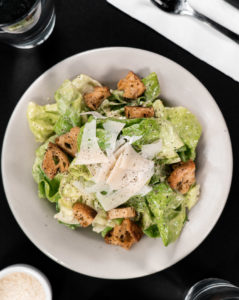 romaine, shaved parmesan, croutons, classic caesar dressing*+ - grilled chicken +4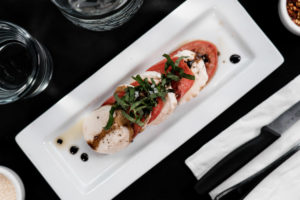 tomatoes, fresh mozzarella, fresh basil, EVOO, balsamic reduction, salt, cracked pepper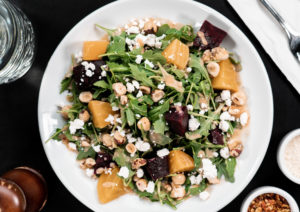 arugula, beets, chèvre, candied hazelnuts, balsamic dressing
* consuming raw eggs/eggwhites may increase your risk of foodborne illness
+ contains fish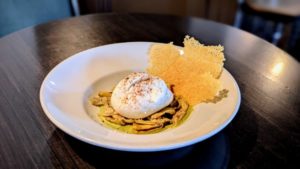 burrata, roasted artichoke hearts, parmesan tuile, spinach remoulade, smoked salt
Bruschetta a Caponata
$14.00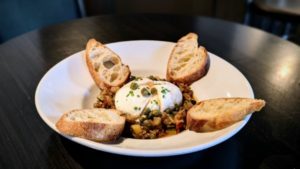 burrata, corstini, stewed eggplant, agrodulce, capers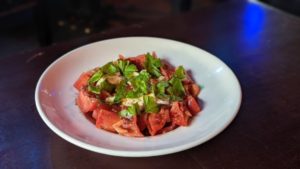 burrata, heirloom tomato, basil, maldon, balsamic plum compote add prosciutto +3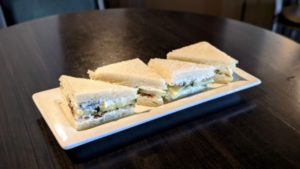 burrata and herb spread, cucumber, fried shallots, shokupan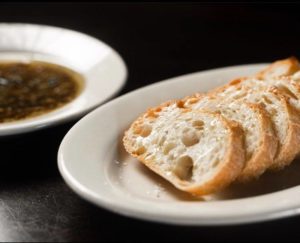 sliced baguette, EVOO, balsamic, duqqa
Spaghetti Aglio E Olio
$12.00
spaghetti, garlic oil, red pepper flakes, black pepper, parmesan, parsley, lemon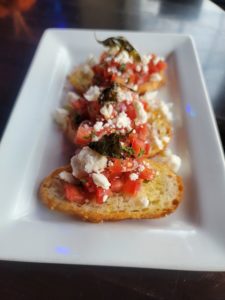 crostini, tomato, garlic, red onion, basil oil, feta
Chocolate Chip Cookie
$3.00
ladyfinger sponge cake soaked in espresso and rum, mascarpone mousse
Vanilla Panna Cotta
$10.00
with tamarind sauce, rustic pistachio biscuit, and banana chips
SPIRITS
Prices and inventory are dependent upon market fluctuation and availability.
We can probably find a suitable substitution before we break your heart. Our standard pour is 1.5oz.
Elijah Craig Barrel Proof
$19.00
Four Roses Small Batch
$12.00
Whistlepig 10-year
$23.00
High West Double Rye
$12.00
Whistle Pig 'Piggy Back'
$16.00
Glenfarclas 12-year
$12.00
Glenrothes 10-year
$10.00
Whisk(e)ys of Ireland, Japan, Canada, and Scotch Blends
Nikka From the Barrel
$22.00
Grey Goose Le Poire
$10.00
Ketel One Cucumber & Mint
$8.00
Ketel One Grapefruit and Rose
$8.00
Ketel One Peach & Orange
$8.00
Rose City Distilling (well)
$6.00
Zubrowka Bison Grass
$8.00
Aalborg Taffel (Aquavit)
$8.00
Pilot House 'Painted Lady'
$8.00
Tanqueray 'Sevilla Orange'
$8.00
St. George 'Terroir'
$10.00
Tanqueray 'No. Ten'
$9.00
Appleton Estate Signature
$7.00
Appleton Estate 8-year Reserve
$9.00
Gosling's Black Seal
$7.00
Neisson Rhum Agricole
$9.00
Plantation Pineapple
$11.00
Novo Fogo Silver (Cachaca)
$12.00
Don Julio Reposado
$18.00
Casamigos Reposado
$15.00
El Tesoro Reposado
$12.00
Pueblo Viejo (well)
$6.00
Mezcal Union el Viejo
$15.00
Mezcal Unión Joven
$11.00
Amargo Angostura Vallet
$10.00
Fernet dei Fratelli Loreto
$10.00
Génépy le Chamois
$10.00
Peychaud's Aperitivo
$8.00
Clear Creek Kirschwasser
$12.00
Clear Creek Pear Brandy
$12.00
Copper & Kings American Brandy
$9.00
Laird's Bonded Apple Brandy
$9.00
Martell VS Cognac (well)
$8.00
Pierre Ferrand 1840 Cognac
$10.00
Castillo Oloroso Sherry
$8.00
Byrrh Grand Quinquina
$8.00
Cappelletti Aperitivo
$8.00
Cocchi Vermouth di Torino
$8.00
Napoleon Amontillado Sherry
$8.00
Valdespino Fino Sherry
$7.00
Berto & Dolin Vermouths (well)
$7.00
Bonal Gentiane-Quina
$8.00
Wine by the Bottle
2012 Nicolas Maillart Millesime, Champagne, France
$260.00
NV Corte San Pietro Sei Bollissima, Piedmont, Italy
$31.00
NV Nicola Gatta 'Quattrocento' Vino Spumante Extra Brut, Lombardy, Italy
$74.00
2015 Pecchenino Metodo Classico Alta Langa Brut, Piedmont, Italy
$80.00
2018 Vie di Romans Friuli Isonzo Chardonnay, Friuli-Venezia, Italy
$52.00
2019 Monlia Derthona Timorasso Colli Tortonesi, Piedmont, Italy
$66.00
2020 Selvanova Terre del Volturno Bianco, Campania, Italy
$36.00
2018 Ferlat 'No Land' Vineyard Bianco, Friuli-Venezia Giulia, Italy
$47.00
2020 Mario Bagella '1 Sorso' Vermentino, Sardinia, Italy
$34.00
2019 Alessandro Tofanari 'Ciprea' Vernaccia, Tuscany, Italy
$35.00
2020 Iacopo Paolucci 'Iacopone' Grechetto di Todi, Umbria, Italy
$37.00
2016 Coppo 'Pomorosso' Barbera d'Asti, Piedmont, Italy
$98.00
2015 Red, White, & Black 'Director's Cut' Pinot Noir, North Plains, Oregon
$98.00
2017 Segni di Langa 'Sollo' Barolo, Piedmont, Italy
$139.00
2020 L'Aietta Mulinari Rosso di Montalcino, Tuscany, Italy
$69.00
2016 Perazzeta Syrah Toscana, Tuscany, Italy
$92.00
2012 Yamhill Valley 'Tall Poppy' Single Block Pinot Noir, McMinnville, Oregon
$112.00
2013 Curto Marco La Foia Barolo, Piedmont, Italy
$122.00
2016 Mulinari l'Aietta Brunello di Montalcino, Tuscany, Italy
$140.00
2011 Paolo Scavino Rocce Dell'Annunziata Barolo, Piedmont, Italy
$305.00
2020 Cascina la Barbatella Barbera d'Asti, Piedmont, Italy
$48.00